COVID-19 information & Resources
The unfolding effects of the Coronavirus (COVID-19) have become the focus of attention and interest for navigating the different levels of official organizations providing a variety of information and updates to COVID-19. The University of Guam's CE&O's page continues to promote both the trustworthiness of information and the importance of research-based information tied firstly to resources and research generated across our USDA land grant institutional network with a specific focus on preserving and updating the information and knowledge needs to enable communities to better respond to the COVID-19 challenge. This page presents a current event reference for increasing community-wide preparedness and making informed decisions linked to the information and resources for COVID-19. This page is intended to help individuals, families, and the general community to know and understand the sources of official and credible information and resources as well as hoping the use of both information and resources can be a starting point to understand the issues surrounding the latest threat.
This page is geared towards user-friendly formats and representing current references on COVID-19.
---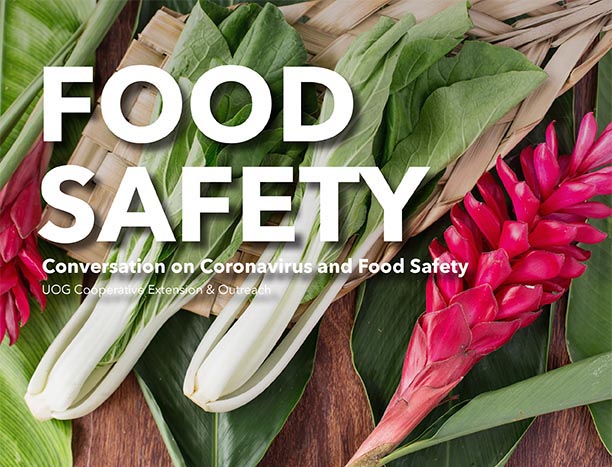 Food Safety Always
Jian Yang, PhD, Extension Specialist, Food Safety
Clarissa Barcinas, Extension Associate, Consumer and Family Science.
Can Coronavirus-19 infect people through food? Currently there is no evidence that the virus can spread through food to people.
To minimize the risk for all food issues, follow good personal hygiene and proper food handling practices, which include:
Wash your hands with soap and water for 20 seconds before, during, and after preparing foods.
Clean and sanitize your food preparation surfaces using household disinfectants
Cook food thoroughly.
Cover your nose and mouth when coughing and sneezing with tissue or a flexed elbow.
Avoid close contact with anyone with cold or flu-like symptoms.
---
Information and Resources on the following topics of interest:
General Information Coronavirus (COVID-19) Fact Sheet
Summary: Government Organizations and Types of Information on COVID-19
Abstract on Organizations
National and International Organizations Profile
1. US Centers for Disease Control and Prevention (CDC)
2. World Health Organization
3. US Homeland Security
4. US Department of Agriculture (USDA)
Local Guam Organizational Profile
1. Guam Department of Public Health and Social Services (DPHSS)
Information and Resources:
CDC website: https://www.cdc.gov/coronavirus/2019-ncov/index.html
General Information Coronavirus (COVID-19)- Food Response Preparedness
Summary: Coronavirus (COVID-19) and Access to Food
Abstract
Information and Resources:
Resources: www.fns.usda.gov/disaster/pandemic.
Updating your emergency food supplies
General Information Coronavirus (COVID-19)- Off-Island Travel Advisories
Summary: Coronavirus (COVID-19) and Access to Food
Abstract
Information and Resources:
General Information Coronavirus (COVID-19)- Upcoming workshops and Information sessions
Summary: Coronavirus (COVID-19) and Food Safety
Abstract
Information and Resources:
World Health Organization COVID-19
Updated as of March 18, 2020